"Beware of Dogs"
"Beware of dogs, beware of evil workers..."
Philippians 3:2
Beware of dogs - Dogs in the east are mostly without masters; they wander at large in the streets and fields, and feed upon offals, and even upon corpses; compare 1Ki_14:11; 1Ki_16:4; 1Ki_21:19. They are held as unclean, and to call one a dog is a much stronger expression of contempt there than with us; 1Sa_17:43; 2Ki_8:13. The Jews called the pagan dogs, and the Muslims call Jews and Christians by the same name.
The term dog also is used to denote a person that is shameless, impudent, malignant, snarling, dissatisfied, and contentious, and is evidently so employed here. It is possible that the language used here may have been derived from some custom of affixing a caution, on a house that was guarded by a dog, to persons approaching it. Lenfant remarks that at Rome it was common for a dog to lie chained before the door of a house, and that a notice was placed in sight, ?Beware of the dog.? The same notice I have seen in this city affixed to the kennel of dogs in front of a bank, that were appointed to guard it.
The reference here is, doubtless, to Judaizing teachers, and the idea is, that they were contentious, troublesome, dissatisfied, and would produce disturbance. The strong language which the apostle uses here, shows the sense which he had of the danger arising from their influence. It may be observed, however, that the term dogs is used in ancient writings with great frequency, and even by the most grave speakers. It is employed by the most dignified characters in the Iliad (Boomfield), and the name was given to a whole class of Greek philosophers - the Cynics. It is used in one instance by the Saviour; Mat_7:6.
By the use of the term here, there can be no doubt that the apostle meant to express strong disapprobation of the character and course of the persons referred to, and to warn the Philippians in the most solemn manner against them.
? Albert Barnes Notes on the Bible
---
Beware of dogs,.... By whom are meant the "judaizing" teachers, who were for imposing the works and ceremonies of the law upon the Gentiles, as necessary to salvation; and they have the name retorted on them they used to give to the Gentiles; see Mat_15:26; nor should they think it too severe, since the Jews themselves say, "the face of that generation (in which the Messiah shall come) shall he, "as the face of a dog".
The apostle calls them so, because they returned to Judaism, as the dog to its vomit, 2Pe_2:22; and because of the uncleanness in which many of them lived, and the impudence they were guilty of in transforming themselves into the apostles of Christ, and putting themselves upon an equal foot with them; as also for their calumny and detraction, their wrangling with the apostles, snarling at their doctrines, and biting them with the devouring words of reproach and scandal: likewise, they may be styled dogs for their covetousness, being such greedy ones as in Isa_56:10, with feigned words making merchandise of men; and for their love of their, bellies, which they served, and not Christ, and made a god of, Phi_3:19.
Moreover, because they were without, as dogs are, Rev_22:15; having gone out from the communion of the saints, because they were not of them; or if among them, yet not true members of Christ, nor of his mystical body; all which are so many arguments why the saints should beware of them, and why their persons, conversation, and doctrine should be avoided.
? John Gill's Exposition of the Entire Bible
---
He cautions them to take heed of those false teachers: To write the same thing to you to me indeed is not grievous, but for you it is safe; that is, the same things which I have already preached to you; as if he had said, ?What has been presented to your ears shall be presented to your eyes: what I have spoken formerly shall now be written; to show that I am still of the same mind.? To me indeed is not grievous. Observe,
1. Ministers must not think any thing grievous to themselves which they have reason to believe is safe and edifying to the people.
2. It is good for us often to hear the same truths, to revive the remembrance and strengthen the impression of things of importance. It is a wanton curiosity to desire always to hear some new thing. It is a needful caution he here gives: Beware of dogs, Phi_3:2. The prophet calls the false prophets dumb dogs (Isa_56:10), to which the apostle here seems to refer.
Dogs, for their malice against the faithful professors of the gospel of Christ, barking at them and biting them. They cried up good works in opposition to the faith of Christ; but Paul calls them evil workers: they boasted themselves to be of the circumcision; but he calls them the concision: they rent and tore the church of Christ, and cut it to pieces; or contended for an abolished rite, a mere insignificant cutting of the flesh.
? Matthew Henry's Commentary on the Whole Bible
---
"Nor... the Smell of Fire..." - Sparks
Sparks
Reading: Daniel 3:16-27 and I Peter 1:6-8 (ASV).
"Shadrach, Meshach, and Abednego, answered and said to the king, ?0 Nebuchadnezzar, we have no need to answer thee in this matter. If it be so, our God whom we serve is able to deliver us from the burning fiery furnace; and He will deliver us out of thine hand, 0 king. But if not, be it known unto thee, 0 king, that we will not serve thy gods, nor worship the golden image which thou hast set up.? Then was Nebuchadnezzar full of fury, and the form of his visage was changed against Shadrach, Meshach, and Abednego: therefore he spake, and commanded that they should heat the furnace seven times more than it was wont to be heated.
"And he commanded certain mighty men that were in his army to bind Shadrach, Meshach, and Abednego, and to cast them into the burning fiery furnace. Then these men were bound in their hosen, their tunics, and their mantles, and their other garments, and were cast into the midst of the burning fiery furnace. Therefore because the king's commandment was urgent, and the furnace exceeding hot, the flame of the fire slew those men that took up Shadrach, Meshach, and Abednego.
"And these three men, Shadrach, Meshach, and Abednego, fell down bound into the midst of the burning fiery furnace. Then Nebuchadnezzar the king was astonished, and rose up in haste: he spake, and said unto his counsellors, ?Did not we cast three men bound into the midst of the fire?? They answered and said unto the king, ?True, 0 king.? He answered and said, ?Lo, I see four men loose, walking in the midst of the fire, and they have no hurt; and the aspect of the fourth is like a son of the gods.?
"Then Nebuchadnezzar came near to the mouth of the burning fiery furnace: he spake and said, ?Shadrach, Meshach, and Abednego, ye servants of the Most High God, come forth, and come hither.? Then Shadrach, Meshach, and Abednego, came forth out of the midst of the fire. And the satraps, the deputies, and the governors, and the king's counsellors, being gathered together, saw these men, that the fire had no power upon their bodies, nor was the hair of their head singed, neither were their hosen changed, nor had the smell of fire passed on them" (Daniel 3:16-27).
"Wherein ye greatly rejoice, though now for a little while, if need be, ye have been put to grief in manifold trials, that the proof of your faith, being more precious than gold that perisheth though it is proved by fire, may be found unto praise and glory and honor at the revelation of Jesus Christ: whom not having seen ye love; on whom, though now ye see Him not, yet believing, ye rejoice greatly with joy unspeakable and full of glory" (I Peter 1:6-8).
"The trial of your faith." Let us consider four things that are the outcome of the trial.
The Outcome of Trial
(1) The Self-Destruction of the Enemy
How wonderfully above the situation these three men were! With the prospect of the trial, with the threat over their heads, how utterly careless about answering the king! "We have no need to answer thee in this matter." There was a settled confidence of heart, the outcome of an integrity of life and walk before God. Their concern was that they should not in any respect be found in compromise of their relationship to the Most High God. Threaten them with a fiery furnace, they are quite above it all. And the first effect of the bringing of these men into that trial justified their confidence, because the very means that were used of the enemy to compel them into the fire were consumed by the fire.
If our lives are in an utter position in relation to the Lord Whom we confess and serve, we have no need to fear the fire. We shall certainly be wise not to invite the fire; but in the course of our life and our testimony, if and as the fire comes we have no need to fear. The very means that the enemy uses to bring about the fiery condition will be consumed. That is a very solemn word for any who would be found creating fiery conditions for the saints. The saints' concern must be their relationship to the Lord.
(2) The Loosing of Bonds
Another outcome of the fire is the loosing of bonds. Are you in the fire? Have you got a satisfactory reason for being there? Here is one; it may apply to you; the fire is ordained of God for the very purpose of loosing you from bonds. Yes, the limitations that circumstances and conditions outside of us put upon us, the frustrations of which we are so conscious, they are dealt with in the fire.
But what about the limitations, the bonds, that are peculiarly ours, within us - the bonds of our makeup, the features of our temperaments? The same is true. Here is a loving God ordaining the fire and allowing the enemy to stoke it to a sevenfold heat, with the purpose, in the heart of God, of loosing us from bonds. Oh, is this happening with us? The fires are being heated to an intensity that we never thought possible for us to endure; are we being liberated by them? Are we coming into the glorious liberty of the children of God? Are we being rid of those things that have so marred our life, our testimony, our ministry?
Maybe you are feeling that you have not got any bonds. Well, some of us have, and some of us are satisfied that this is what God is doing in the fire. There is a loosing in the fire.
(3) Closer Fellowship with the Lord
Another thing that happens in the fire is that these three men are found with One with them in closer fellowship and company than they have ever known before. We know a little about that, do we not? - in the fire, coming to a knowledge of our Lord. We come through the phase of fire and say, "I would never have known the Lord in this way but for that; it was in the fire that I found Him in these terms. I knew all about the theory of it before, but I got hold of the reality there." One "like a son of the gods" so says Nebuchadnezzar in his ignorance, but, as far as we are concerned, it is "the Son of God"; all through the fire, in fellowship with our beloved Lord. Well, the fire is justified.
(4) The Supreme Glory - No Smell of Fire, but Joy Unspeakable
But to me, the crown of this whole matter is what follows after, and it is this that is the real burden on my heart. They came out of the fire, and there was not even the smell of fire upon them. I think that is wonderful. Yes, greater knowledge of the Lord; yes, a liberation and an emancipating; yes, but not even the smell of burning! What is the interpretation of that? Well, I think there is no doubt that one very great effort of the adversary in the fiery furnace, if he cannot stop us getting out and cannot consume us in the fire, is so to leave the marks and smell upon us that for all succeeding days people will associate with us the matter of suffering and trial.
You see what that does, it draws attention to us; and the devil does not mind that, because if attention is drawn to us, the Lord is hidden. Having a smell of burning about us means that the suffering and the trial that we have been through have beclouded the glory.
To come out of the fiery trial of our faith without the smell of burning means, I think, the fulfilling of that word in Peter, "Whom not having seen ye love; on whom, though now ye see Him not, yet believing, ye rejoice greatly with joy unspeakable and full of glory" (I Peter 1:8). That follows this word concerning the fiery trial of our faith, "joy unspeakable and full of glory." Here is the crown of a desperately dark time, of maybe years of suffering, of the testing of our faith, joy beyond speech, full of glory. The enemy ever seeks to rob us of our joy and frustrate the desire of the Lord that we should be radiators of His glory; and by the fiery trial all too often he succeeds.
I recently had occasion to see a brother who before the last war was on the Continent, and he was incarcerated for years in one of the big concentration camps. Without attempting to describe his harrowing experiences in detail, suffice to say that, by reason of the stand he took, at least three times he was trussed head downward over the bough of a tree and thrashed into unconsciousness. I was interested to see him and to note what were the effects of his suffering upon him. That man's faith is undimmed; he has waxed strong; and the outstanding mark is not the suffering, though you can see the traces in his face; the outstanding mark is not the suffering, it is the glory. He is full of joy. Yes, I think he knows something about this "joy unspeakable."
The Need for Watchfulness
Now the enemy is making a very big effort to rob us of our joy. If he cannot keep us in the furnace, he will bring us out so smelling of the fire that everywhere we go people will say, "Poor So-and-so! He is having a terrible time; I don't know how he goes through; I don't know what he will do." You see what the smell of fire is doing, it is drawing attention to ourselves.
I have been quite impressed with the amount that there is of joy and gladness relating to the Anointing. We are so familiar with the thought that the Anointing brings power and the exercise of the authority of the Throne, but you know the word in Psalm 45:7 quoted in Hebrews 1:9 "Thou lovest righteousness, and hatest wickedness: therefore God, thy God, hath anointed thee with the oil of gladness above thy fellows." Here is the One Who is supremely standing true to God, committed to a way of trial, of suffering, to the fiery furnace; yes, but this One is outstanding in gladness and joy.
Again, the Lord takes up the prophecy concerning Himself in Isa. 61, and says, "The Spirit of the Lord God is upon me; because the Lord hath anointed me...." Look at that prophecy, and see the amount of joy and gladness that follows that anointing; for mourning, the oil of joy; for ashes, beauty; for heaviness, praise. Because of the greatness of the pressure and adversity in which you are found, are you in danger of losing your joy? Are you as glad in the Lord now that you are well on the road as you were when you began?
Of course, we can disdainfully attribute the original joy to the superficiality of things at the beginning 'These young believers,' we say, 'do not know what suffering and trial and testing mean. if they did they would not be so radiant.' Ah, yes, but have we lost something? Have we 'gone on with the Lord' and lost the joy of the Lord? If we are conscious of having lost something of this, we must take steps to regain it. I was reading of an advertisement that had been put in the paper, "Wanted, Christian, cheerful, if possible." Yes, we smile at that, but evidently the advertiser did not think there was much chance!
True Godliness and glumness do not go together. We have got to watch, for the enemy is out to rob us and to keep us with the smell of fire upon us. Oh, that we can come through the darkest experiences and be those who are so full of what we have gained in the fire that the fire takes a secondary place, and all that meet us after the trial find us with "joy unspeakable and full of glory"!
It may be that some to whom these words come do not know what we are talking about, this trial of our faith. All I would say to such is, "Don't worry about that. Just store up the word, because if you are going on with the Lord, if you have any faith to purify, God will purify it, and somehow, some day, by some means, you will find yourself in the fire; you are not going to escape. It is not the experience of some special saints only. The Lord is after the purifying of the faith of all His people, and you will come to the day of the fire.
"When you do, remember the Lord wants these things to issue from it. Do not be too concerned about the enemy; he is not on top in the matter at all. In his fury and malice and hate he is doing certain things; but God is turning those things to account and using them to perfect that which concerns Him and concerns us, to bring about the end which He desires, even the glory of God in us."
From "A Witness and a Testimony" July-August 1949; pages 86,87.
---
The Importance of Sound Doctrine - Tozer
The Importance of Sound Doctrine

A.W Tozer
IT WOULD BE IMPOSSIBLE to overemphasize the importance of sound doctrine in the life of a Christian. Right thinking about all spiritual matters is imperative if we would have right living. As men do not gather grapes of thorns nor figs of thistles, sound character does not grow out of unsound teaching.
The word doctrine means simply religious beliefs held and taught. It is the sacred task of all Christians, first as believers and then as teachers of religious beliefs, to be certain that these beliefs correspond exactly to truth. A precise agreement between belief and fact constitutes soundness in doctrine. We cannot afford to have less.
The apostles not only taught truth but contended for its purity against any who would corrupt it. The Pauline epistles resist every effort of false teachers to introduce doctrinal vagaries. John's epistles are sharp with condemnation of those teachers who harassed the young church by denying the incarnation and throwing doubts upon the doctrine of the Trinity; and Jude in his brief but powerful epistle rises to heights of burning eloquence as he pours scorn upon evil teachers who would mislead the saints.
Each generation of Christians must look to its beliefs. While truth itself is unchanging, the minds of men are porous vessels out of which truth can leak and into which error may seep to dilute the truth they contain. The human heart is heretical by nature and runs to error as naturally as a garden to weeds. All a man, a church or a denomination needs to guarantee deterioration of doctrine is to take everything for granted and do nothing. The unattended garden will soon be overrun with weeds; the heart that fails to cultivate truth and root out error will shortly be a theological wilderness; the church or denomination that grows careless on the highway of truth will before long find itself astray, bogged down in some mud flat from which there is no escape.
In every field of human thought and activity accuracy is considered a virtue. To err ever so slightly is to invite serious loss, if not death itself. Only in religious thought is faithfulness to truth looked upon as a fault. When men deal with things earthly and temporal they demand truth; when they come to the consideration of things heavenly and eternal they hedge and hesitate as if truth either could not be discovered or didn't matter anyway.
Montaigne said that a liar is one who is brave toward God and a coward toward men; for a liar faces God and shrinks from men. Is this not simply a proof of unbelief? Is it not to say that the liar believes in men but is not convinced of the existence of God, and is willing to risk the displeasure of a God who may not exist rather than that of man who obviously does?
I think also that deep, basic unbelief is back of human carelessness in religion. The scientist, the physician, the navigator deals with matters he knows are real; and because these things are real the world demands that both teacher and practitioner be skilled in the knowledge of them. The teacher of spiritual things only is required to be unsure in his beliefs, ambiguous in his remarks and tolerant of every religious opinion expressed by anyone, even by the man least qualified to hold an opinion.
Haziness of doctrine has always been the mark of the liberal. When the Holy Scriptures are rejected as the final authority on religious belief something must be found to take their place. Historically that something has been either reason or sentiment: if sentiment, it has been humanism. Sometimes there has been an admixture of the two, as may be seen in liberal churches today. These will not quite give up the Bible, neither will they quite believe it; the result is an unclear body of beliefs more like a fog than a mountain, where anything may be true but nothing may be trusted as being certainly true.
We have gotten accustomed to the blurred puffs of gray fog that pass for doctrine in modernistic churches and expect nothing better, but it is a cause for real alarm that the fog has begun of late to creep into many evangelical churches. From some previously unimpeachable sources are now coming vague statements consisting of a milky admixture of Scripture, science and human sentiment that is true to none of its ingredients because each one works to cancel the others out.
Certain of our evangelical brethren appear to be laboring under the impression that they are advanced thinkers because they are rethinking evolution and reevaluating various Bible doctrines or even divine inspiration itself; but so far are they from being advanced thinkers that they are merely timid followers of modernism-fifty years behind the parade.
Little by little evangelical Christians these days are being brainwashed. One evidence is that increasing numbers of them are becoming ashamed to be found unequivocally on the side of truth. They say they believe but their beliefs have been so diluted as to be impossible of clear definition.
Moral power has always accompanied definitive beliefs. Great saints have always been dogmatic. We need right now a return to a gentle dogmatism that smiles while it stands stubborn and firm on the Word of God that liveth and abideth forever.
---
Hur du får ut mest av din Bibel läsning.
Av Thomas Watson övs & bearbetad av C.Jelbring
1.     Avlägsna alla hinder (a) avlägsna all kärlek till all synd (b) avlägsna alla distraherande värdsliga bekymmer, speciellt begär och lusta (Matt 13:22) (c) skämta inte med skriften eller om den.
2.     Förbered ditt hjärta. (1 sam 7:3) Gör så genom att: (a) samla dina tankar (b) rena dig från orena begär och lustar (c) inte komma till Guds ord tanklöst och vårdslöst
3.     Läs Guds ord med vördnad, besinna att varje rad du läser är Gud som talar direkt till dig.
4.     Läs Guds ord i böckernas ordning, från pärm till pärm.
5.     Skaffa en rätt och sann förståelse av skriften (Ps 119:73) detta göres lättast med att jämnföra relevanta bibelställen med varandra.
6.     Läs Guds ord med all allvarsamhet (5 Mos 32:47) Det kristna livet skall tas på största allvar eftersom det kräver ?kamp? (Luk 13:24) Så att vi inte blir efter på vägen (Heb 4:1)
7.     Bevara vad du läser i ditt minne (Ps 119:52) Tänk över vad du läser , så att du inte blir bestulen på ordet (Matt 13:4,19) Om vad du läst inte förblir i ditt minne är det osannolikt att det är dig till nytta.
8.     Meditera/begrunda på vad det är du läser. (Ps 119:15) Det hebreiska ordet för begrunda betyder att vara intensiv i sinnet, Meditation utan läsning är fel och på förhand dömt att misslyckas; läsning utan meditation är naket och fruktlöst. Det betyder att röra upp dina känslor, att sätta ditt hjärta i brand (Ps 39:3)
9.     Läs Guds ord med ett ödmjukt hjärta. Bekänn att du är ovärdig att han skulle uppenbara sig för dig.(Jak 4:6)
10.Tro på att allt i bibeln är Guds heliga ord (2 Tim 3:16)
11. Värdesätt Guds ord högt(Ps 119:72) det är din livlina, du är född utav det(Jak 1:18) och du behöver växa utav det (1 Pet 2:2)
12.Ha Guds ord rikligt ?kärt? (Ps 119:159)
13.Läs Guds ord med ett ärligt hjärta,(Luk 8:15) (a) villig att ta emot Guds hela och perfekta vilja. (b) så att genom att läsa det kan du bli förändrad och helgad genom det (Joh17:17)
14.Tillämpa allt vad du läser till ditt liv, ta varje ord du läser som att det var talat till dig personligen
15.Lägg noga märke till Guds befallningar likavär som Guds löften. Tänk över att du behöver lika mycket vägledning, som tröst från Guds ord
16.Jämnför dig själv med Guds ord. Hur mäter du dig jämnfört med det? Är ditt hjärta en ritning utav det, eller inte?
17.Lägg extra noga uppmärksamhet på bibelställen som talar om din speciella situation, tex (a) Tuktan/tillrättavisning/prövningar (Heb 12:7 , Jes 27:9 , Joh 16:20, 2 Kor 4:17) (b) Synd (Gal 5:24 , Jak 1:15 , 1 Pe 2:11 , Ord 7:10&22-23, Ord 22:14)  (c) Otro (Jes 26:3 , 2 Sam 22:31 , Joh 3:15 , 1 Joh 5:10 , Joh 3:36)
18.Lägg extra noga märke till människors liv och hur deras liv är exempel till vår lärdom. (a) Bestraffning (Nebuchadnezzar, Herodes, 4 Mos 25:3-4&9, 1 Kun 14:9-10, Apo 5:5,10, 1 Kor 10:11, Jud 7] (b) Nåd och Befrielse (Daniel, Jeremiah, de tre i den brinnande ugnen)
19.Sluta aldrig att läsa din bibel förrens du känt ditt hjärta blivigt styrkt och livnärt [Ps 119:93] Låt inte bara Guds ord informera dig, låt det sätta dig i brand [Jer 23:29, Luk 24:32]
20.                               Lev vad du lär, praktisera i ditt liv vad Guds ord lär [Ps 119:66, Ps 119:105, 5 Mos 17:19].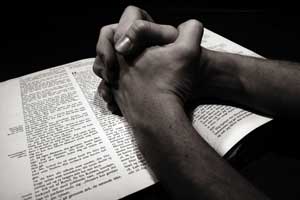 ---
Pröva er själva
2 Corinthians 13:5 ¶ Pröva er själva om ni lever i tron, pröva er själva! Eller vet ni inte med er att Jesus Kristus är i er? Gör ni inte det, består ni inte provet.
Ordet Pröva er i grekiskan betyder att bevisa att något går att genomföra, och även att se om tron håller måttet. Så det går att testa att se om man är frälst eller om man inte lever i Jesus. Vi mins proven man fick i skolan, när läraren delade ut svaren så kunde man ana hur det hade gått för en själv, var man förbered så kunde man känna med viss säkerhet att man skulle klara det, om det hade gått dåligt så visste man med säkerhet det oxå. Nu kan vi på samma sätt testa vår tro om den håller måttet med Guds Ord.
Det finns ?religösa saker? aktiviteter som en människa kan göra utan att vara frälst eller känna Gud i sanning, här följer en lista på exempel på sådana hämtade ur skriften.
Lista nummer 1. (saker som verken bevisar eller motbevisar att man är ett Guds barn, det är möjligt göra dessa utan att vara född på nytt)
Synlig Moral (Matt 19:16-21, Matt 23:27)
Intellektuell Kunskap Om Bibeln (Rom 1:21, Rom 2:17)
Involverad i Religös Aktivitet (Matt 25:1-10)
Aktivt Kristen Tjänst (Matt 7:21-24)
Uppleva Syndanöd (Apo 24:25)
Försäkran (Matt 23)
Ett beslut att följa Herren en gång (Luk 8:13-14)
Lista nummer 2. (du är född på nytt)
Kärlek till Gud (Psalm 42:1, Psalm 73:25, Luk 10:27, Rom 8:7)
Omvändelse från synd (Psalm 32:5, Ord 28:13, Rom 7:14, 2 Kor 7:10, 1 Joh 1:8-10)
Äkta Ödmjukhet (Psalm 51:17, Matt 5:1-12, Jak 4:6, 9)
Iver för Guds ära (Psalm 105:3, Psalm 115:1, Jes 43:7, Jes 48:10, Jer 9:23-24, 1 Kor 10:31)
Fortgående Bön (Luk 18:1, Efe6:18, Fil 4:6, 1 Tim 2:1-4, Jak 5:16-18)
Osjälvisk Kärlek (1 Joh 2:9, 1 Joh 3:14, 1 Joh 4:7)
Avskilda från världen (1 Kor 2:12, Jak 4:4, 1 Joh 2:15-17, 1 Joh 5:5)
Fortsatt Andlig Mognad (Luk 8:15, Joh 15:1-6, Efe 4:12-16)
Lydnad (Matt 7:21, Joh 15:14, Rom 16:26, 1 Pe 1:2, 22, 1 Joh 2:3-5)
Hunger efter Guds Ord (1 Pe 2:1-3)
Förvandling av Livet (2 Kor 5:17)
---
När bergen skakade ~ om väckelsen på Hebriderna 1949 - 1953 Duncan Campbell


Jesaja 64:1-3
O, att du lät himlen rämna och kom hit ner, så att bergen skakade inför dig, som när eld antänder ris och elden får vattnet att sjuda, så att ditt namn blir känt för dina ovänner och hednafolken darrar för dig. När du gjorde fruktansvärda gärningar, som vi inte kunde vänta oss, då steg du ner och bergen skälvde inför dig.
Varje gång jag läser den tredje versen söker sig min tanke tillbaka till det som verkligen hände i Barvas församling på ön Lewis. Låt mig redan från början göra klart att det inte var jag som förde väckelsen till Hebriderna. Jag hade förmånen att få vara där och i viss utsträckning leda rörelsen under tre år. Men Gud verkade i församlingen i Barvas innan jag satte min fot på ön.
Väckelse är fortfarande något som det argumenteras emot och man skall inte tro på alla berättelser som man hör om Uppvaknandet på Lewis. Under åren har det sagts saker som inte stämmer med fakta, men verkliga fakta är kraftfulla nog.
Definition av väckelse
Låt mig först berätta vad jag menar med väckelse. Evangelisationskampanjer eller särskilda möten är inte väckelse. I framgångsrika evangelisationskampanjer kan hundratals och till och med tusentals människor avgöra sig för Kristus, medan samhället förblir oberört och församlingarna till stor del fortsätter på samma sätt som de gjorde innan kampanjen.
Vid en väckelse rör Gud vid bygden. Plötsligt blir samhället Gudsmedvetet. Guds Ande griper män och kvinnor på ett sådant sätt att de till och med måste sluta arbeta medan de överlåter sig åt att vänta inför Gud.
Under Uppvaknandet på Lewis skrev pastorn i Barvas församling: "Herrens Ande vilade på ett underbart sätt över de olika orterna i området. Hans närvaro fanns i hem, över ängar och hedar, till och med på öppna gator." Denna Guds närvaro är det yttersta kännetecknet på en väckelse som är sänd av Gud. Av de hundratals människor som blev frälsta under den här tiden blev hela sjuttiofem procent frälsta innan de kom i närheten av ett möte eller hörde mig eller någon annan pastor i församlingen predika.
Guds kraft, Guds Ande, verkade och gudsfruktan grep människors själar ? detta är gudasänd väckelse, till skillnad från särskilda evangelisationsansträngningar.
Grundad på förbön och vision
Hur började då denna nåderika rörelse? 1949 sände den lokala distriktsstyrelsen ut en proklamation som en viss söndag skulle läsas upp i alla församlingar på Lewis som tillhörde den Fria Skotska Kyrkan (presbyteriansk). Denna proklamation uppmanade folket att betänka "den levande religionens ömkliga tillstånd ... över allt i landet ? det gudomliga missnöjet ... med den tilltagande nonchalansen gentemot de offentliga gudstjänsterna ... och det tilltagande inflytandet av njutningens ande som har fått ett allt starkare grepp om den yngre generationen." De uppmanade församlingarna att "... ta dessa angelägenheter till sitt hjärta och allvarligt fråga sig vad följden blir om det inte sker någon omvändelse. Vi uppmanar var och en att pröva sitt eget liv inför Gud i ljuset av det ansvar som vilar på oss alla och att vi genom gudomlig nåd måtte bli besökta med en ångerns ande och åter vända oss till den Herre som vi så djupt har bedrövat."
Jag kan inte säga vilken effekt uppläsningen av denna proklamation hade på öns pastorer eller befolkning i allmänhet. Men jag vet att ett antal män och kvinnor i Barvas församling tog den till sitt hjärta, särskilt två gamla kvinnor.
Jag skäms när jag tänker på det. Två systrar, den ena åttiotvå och den andra åttiofyra, den senare var blind. Dessa två kvinnor utvecklade en mäktig hjärtats nöd för att Gud skulle göra något i församlingen, och de ägnade sig helt åt att vänta på Gud i sin lilla stuga.
En natt gav Gud en av systrarna en uppenbarelse. Nu måste vi förstå att under en väckelse sker det anmärkningsvärda saker. Det är övernaturligt; man rör sig inte längre på ett mänskligt plan; man rör sig på ett gudomligt plan. I uppenbarelsen såg hon kyrkorna fyllda med unga människor och hon sade till sin syster: "Jag tror att det kommer väckelse till församlingen". Vid den tiden kom det inte en enda ung människa till de offentliga gudstjänsterna, ett faktum som är obestridligt.
Hon sände bud efter pastorn, hon berättade om sin upplevelse för honom och han tog hennes budskap som ett ord från Gud till sitt hjärta. Han vände sig till henne och frågade: "Vad tror du att vi bör göra?" "Vad?" svarade hon "Överlåt dig till bön, överlåt dig till att vänta inför Gud. Samla dina äldste och diakoner och tillbringa minst två nätter i veckan i väntan inför Gud i bön. Om du gör så i din del av församlingen, kommer jag och min syster att göra så i vår del av församlingen från klockan tio på kvällen till klockan två eller tre på morgonen."
Pastorn kallade samman sina ledare och under flera månader väntade de inför Gud bland halmstrån i en lada. Under denna tid lyfte de fram ett löfte: Ty jag skall utgjuta vatten över det som törstar och strömmar över det torra. Jag skall utgjuta min Ande över dina barn, min välsignelse över dina avkomlingar (Jesaja 44:3)
Detta pågick under åtminstone tre månader. Ingenting hände. Men en kväll reste sig en ung diakon och började läsa från Psalm 24: Vem får gå upp på Herrens berg? Vem får träda in i hans helgedom? Den som har oskyldiga händer och rent hjärta, den som inte vänder sin själ till lögn och inte svär falskt. Han skall få välsignelse från Herren och rättfärdighet av sin frälsnings Gud. (Ps 24:3-5)
Han stängde sin Bibel och vände sig till pastorn och de andra äldste med ord som låter grova på engelska, men inte på vårt gaeliska språk: "Jag tycker att det verkar vara skojeri rätt igenom. Att vänta så som vi väntar, att be som vi ber, när vi själva inte har det rätt ställt med Gud". Sedan lyfte han sina händer mot himlen och bad, "O Gud, är mina händer rena? &Äuml;r mitt hjärta rent?" Sedan lade han sig på knä och föll i hänryckning.
Bed mig nu inte att förklara de yttre manifestationerna i denna rörelse, för det kan jag inte. Men ett vet jag, att någonting hände i ladan, i denne unge diakon, vid det ögonblicket. Det förlöstes en kraft som skakade himlarna och en medvetenhet om Guds närvaro grep dem som hade samlats.
Genombrott i Barvas
Nu var jag inte på ön vid detta tillfälle. Jag var i ett annat område när jag fick en förfrågan om att komma till Lewis i tio dagar. Jag hade andra möten inplanerade så jag skrev tillbaka att jag skulle skriva upp Barvas i min almanacka för nästa år. Men på grund av omständigheter som jag inte här går in på, blev mina andra möten inställda och jag fann det möjligt att åka till öarna som jag blivit ombedd.
När jag anlände med båt möttes jag av församlingens pastor och en av hans äldste. När jag gick i land kom äldstebrodern fram till mig och sade: "Mr Campbell, får jag fråga en sak? Vandrar ni med Gud?" Jag var glad att kunna svara, "Jag kan i alla fall säga att jag fruktar Gud."
De hade ordnat det så att jag skulle få tala till församlingen vid ett kort möte som skulle börja klockan nio samma kväll. Det var ett märkligt möte. Gud verkade mäktigt och där var ett medvetande om Guds närvaro på ett underbart sätt. Mötet varade till klockan fyra på morgonen och jag hade aldrig tidigare under min tjänst sett något liknande. Vid midnattstid kom en grupp med unga människor från ett dansställe och fyllde upp kyrkan. Det fanns människor som inte kunde gå och lägga sig därför att de var så gripna av Gud. Fastän där fanns ett medvetande om Guds närvaro och en ande som överbevisade om synd vid detta inledande möte, kom det verkliga genombrottet några dagar senare vid söndagskvällsmötet i församlingskyrkan.
Kyrkan var full och Guds Ande verkade så starkt att jag inte kunde predika. Jag stod bara stilla och stirrade på Guds förunderliga handlande. Män och kvinnor ropade i hela kyrkan till Gud om barmhärtighet. Det gavs inte ut någon inbjudan alls.
När mötet pågått i tre timmar uttalade jag välsignelsen och bad folk att gå ut, men nämnde också att om någon ville fortsätta mötet kunde de komma tillbaka senare. En diakon kom till mig och sade: "Mr Campbell, Gud kretsar över oss." Omkring denna tidpunkt kom mötesledaren och bad mig komma till bakdörren. Där utanför hade en skara om minst 600 människor samlats på gården. Någon gav ut Psalm 102 varefter skaran strömmade tillbaka in i kyrkan som inte längre kunde rymma alla.
En ung lärare kom fram och ropade ut: "O Gud finns det något kvar åt mig?" Hon är missionär i Nigeria idag. I mötet var det med en busslast människor från en plats 90 km bort. Guds kraft kom in i bussen så starkt att några inte kunde ta sig in i kyrkan när de anlände. Människor svimmade överallt i kyrkan, och jag kan inte minnas en enda person, som blev vidrörd av Gud den kvällen, som inte blev född på nytt.
När jag gick ut ur kyrkan klockan fyra på morgonen var det ett stort antal människor som bad längs med vägen. Förutom läraren, är många av de som föddes på nytt den kvällen idag i missionstjänst i främmande länder.
I kyrka, i hage och på hed
Från Barvas spreds Guds handlande till de intilliggande trakterna. Jag fick ett bud om att en närliggande kyrka var fullpackad klockan ett på natten och att de ville att jag skulle komma.
När jag kom dit var kyrkan full och det var skaror av människor utanför. När jag kom ut ur kyrkan två timmar senare såg jag 300 människor, som inte kunnat komma in i kyrkan, bedjande på ett intilliggande fält. En gammal kvinna klagade över oljudet från mötena eftersom hon inte kunde somna. En diakon tog tag i henne och sade, "Kvinna, du har sovit länge nog!".
Det var ett område på öarna som man ville att jag skulle komma till, men jag kände ingen ledning att anta deras inbjudan. Den blinda systern uppmuntrade mig att åka och sade till mig, "Om du levde så nära Gud som du borde, skulle han uppenbara sina hemligheter för dig." Jag gick med på att ägna en förmiddag åt bön tillsammans med henne i stugan. Medan vi bad sade systern: "Herre, du kommer ihåg vad du sade till mig i dag, att du skulle frälsa sju män i den här församlingen. Jag gav just detta vidare till Mr. Campbell och nu ber jag dig att ge honom vishet eftersom han är i så stort behov av det." Hon berättade för mig att om jag åkte till byn skulle Gud se till att där fanns folk.
Jag gick med på att åka dit, och när jag kom dit klockan sju, var där omkring 400 människor i kyrkan. Människorna kunde inte förklara vad som hade fått dem att komma dit, det hade styrts av Guds Ande. Jag talade några minuter över texten Apg 17:30: Gud har länge haft överseende med okunnighetens tider, men nu befaller han människorna att de alla och överallt skall omvända sig.
En av pastorerna avbröt mig och sade, "Kom och titta här." I ena änden av byggnaden låg byns mest ökända typer på sina ansikten och ropade till Gud.
Under en resa till en närliggande ö fann jag människorna väldigt kalla och stela. När jag bad några män komma över för att be, bad jag särskilt att en ung man som hette Donald skulle följa med. Donald var en sjuttonårig pojke som nyligen hade blivit frälst och två veckor senare blivit döpt i den Helige Ande när han satt i en bergssluttning. Donald satt vänd framåt medan tårar rann från hans ansikte ner på golvet. Jag förstod att Donald var i kontakt med Gud på ett sätt som jag själv inte var. Jag avbröt därför min predikan och bad honom att be. Donald ställde sig upp och bad: "Jag tycker mig skåda in genom en öppen dörr och jag ser Lammet på tronen och nycklarna till döden och helvetet vid hans sida." Så tystnade han och började snyfta.
När han hade samlat sig lyfte han sina ögon mot himlen, sträckte upp sina händer och sade, "Gud, det finns kraft där uppe. Släpp den lös!" I det ögonblicket föll Guds kraft över de församlade.
I ena delen av rummet sträckte människor upp sina händer, böjde sina huvuden bakåt och förblev i den ställningen i två timmar. Det är svårt att vara det i tio minuter, ännu värre i två timmar. I andra delen av rummet sjönk människor ihop och ropade om barmhärtighet. I en by åtta kilometer bort svepte Guds kraft genom samhället och det fanns knappt något hus i byn där inte någon blev frälst den kvällen.
I en del av området förekom ett hårt motstånd mot rörelsen eftersom jag predikade dopet i den Helige Ande som en särskild och uttrycklig händelse som kom efter frälsningen. De som satte sig emot mig var så framgångsrika i sitt motstånd att det kom mycket få människor till mötena.
En kväll kom mötesledaren till mig och sade, "Det finns bara en sak att göra för att rätta till den rådande situationen. Vi måste ge oss hän till att vänta inför Gud i bön. Jag har fått reda på att det finns en lantbrukare här som sagt att vi kan träffas i hans hem. Han är inte kristen och hans fru är inte frälst, men de är människor som fruktar Gud".
Vi var ungefär trettio pastorer och äldste från området som samlades i lantbrukarens hem. Jag kände det mycket, mycket trögt. Jag bad. Alla pastorerna bad. Det kändes som om själva helvetets makter var lössläppta. Vid midnattstid vände jag mig till en av de äldste och berättade för honom att jag trodde det var dags att fatta tag i Gud. Denne man ställde sig upp och bad i omkring en halvtimme. (Ni måste förstå att vi talar om väckelse, och i väckelser upphör tiden att existera, ingen tittade på klockan.)
Mannen gjorde ett uppehåll, lyfte sin hand mot himlen och sade, "Gud, vet du om att din ära står på spel? Du gav löftet att du skulle utgjuta vatten över det som törstar och strömmar över det torra, men du gör inte det." Jag undrar hur många av oss som skulle närma oss Gud med sådana ord på våra läppar?
Sedan sade han: "Här finns fem pastorer, inklusive Mr. Campbell, och jag vet inte var i din närvaro någon av dem står. Men om det är något jag vet om mitt eget hjärta, så tror jag att jag kan säga att jag törstar efter en uppenbarelse av din kraft." Han gjorde ett nytt uppehåll och utropade sedan med hög röst: "Gud, din ära står på spel, och nu utmanar jag dig att utgjuta vatten över det som törstar och strömmar över det torra". I det ögonblicket skakade stenhuset bokstavligen som ett löv. Jag tänkte omedelbart på Apostlagärningarna, där det står att när de bad skakades platsen där de var samlade.
Så snart som denne gode man slutat be, uttalade jag välsignelsen, strax efter klockan två på morgonen, och gick ut och fann hela byn i lågor för Gud. Jag gick in i ett hus där jag fann nio kvinnor som låg på knä och ropade till Gud. En kvinna som blev frälst den natten har skrivit några av de finaste gaeliska psalmerna vi har i vår gaeliska psalmbok.
Följande söndag var vägen svart av människor som vandrade de tre kilometrarna till kyrkan. Krogen i just detta samhälle stängdes den natten och har inte öppnats igen sedan dess. Detta är Gud i arbete. En väckelse, sänd av Gud är alltid en helighetsväckelse.
Slutord
Det krävs det som är övernaturligt för att spränga gränserna för det naturliga. Du kan göra ett samhälle missionsmedvetet. Du kan göra ett samhälle kampanjmedvetet. Men bara Gud kan göra ett samhälle gudsmedvetet. Tänk bara på vad som skulle hända om Gud kom i kraft till vilket samhälle som helst. Jag tror att den dagen kommer. Må Gud förbereda oss alla för den. Amen.
Duncan Campbell (1898-1972) växte upp i Skotska högländerna. Han kom till Herren som tonåring och tjänade församlingar i den Förenade Fria Kyrkan - the United Free Church (presbyteriansk) och som kringresande evangelist. Förutom att han var engagerad i Uppvaknandet på Lewis var han en mycket efterfrågad talare på de brittiska öarna.
---
REVIVAL AT ANY COST! by Greg Gordon
REVIVAL AT ANY COST!
by Greg Gordon
John Wesley said: ?What one generation tolerates, the next generation will embrace.? Sadly we have tolerated a hell-less, eternity-less, sin-less gospel and this next generation is aimed at accepting this as the genuine apostolic original. The true Christian witness seems to be almost overshadowed by false doctrines, false cults, and false prophets. It is time for a holy desperation for revival to arise in God?s people! ~Greg Gordon
HOLY DESPERATION
A Fervent Exhortation For
A Revival Of Religion In Our Day
The prophet Isaiah declared the woeful state of Israel over three thousand years ago: ?Except the Lord of hosts had left unto us a very small remnant, we should have been as Sodom, and we should have been like unto Gomorrah.? How much different are we? Churches are failing, leaders are fumbling, and truth is fallen in the streets. The prophet Isaiah continues with this divine reprimand: ?they declare their sin as Sodom, they hide it not.? And what shall the end of a people be that ?hide not their sins?? I have seen a strange thing under the sun: professors preaching ?continue in sin? from the pulpit. The Apostle Paul in contrast preached ?God forbid? which is one of the strongest emphatic statements in Scripture used to convey the ceasing of sin in the life of the believer. John Wesley said: ?What one generation tolerates, the next generation will embrace.? Sadly we have tolerated a hell-less, eternity-less, sin-less gospel and this next generation is aimed at accepting this as the genuine apostolic original. The true Christian witness seems to be almost overshadowed by false doctrines, false cults, and false prophets. It is time for a holy desperation for revival to arise in God?s people! Mary Warburton Booth said this when the Salvation Army movement was waning: ?How we have prayed for a revival?we did not care whether it was old-fashioned or not?what we asked for was that it should be such that would cleanse and revive His children and set them on fire to win others.? We need a fury of passionate pleading, desperate crying, fervent praying for a heaven-sent revival in our day. Chuck Smith gave this searing statement to a church that does not realize its hour: ?Today, we are living in desperate times. Yet, the Church is not desperate before God in prayer.? Leonard Ravenhill said that ?Revival only comes by birth.? With birth comes laborious gestation, travailing birth-pains, and conceptional agony. Shall the birthing of revival be any different? Revival prayer is born out of a holy and healthy desperation for the presence and power of Christ in His church. We need not shrink back from emotions and displays of desperation for revival. Read this old report from one hundred years ago with the Irish Presbyterian Church: ?Perhaps you say it?s a sort of religious hysteria. So did some of us when we first heard of the Revival. But here we are, about sixty Scottish and Irish Presbyterians who have seen it?all shades of temperament?and, much as many of us shrank from it at first, everyone who has seen and heard what we have, every day last week, it is certain there is only one explanation?that it is God?s Holy Spirit manifesting Himself in a way we never dreamed of. We have no right to criticize; we dare not. One clause of the Creed that lives before us now in all its inevitable, awful solemnity is ?I believe in the Holy Ghost.?? God is desiring to manifest Himself in ways that we ?never dreamed of? which is reminiscent of the Scripture in Psalms that says: ?When the Lord turned again the captivity of Zion, we were like them that dream.? Oh Lord! turn back our captivity and grant us revival.
REVIVAL OR DEATH
?For decades sincere believers have asked, ?Why don't we have revival?? And for decades the answer has always been the same, ?We don't have revival because we're willing to live without it!? It really is that simple. Do we really want to hear the truth? God responds to hunger and thirst. He fills those who recognize their need, who are empty and broken, who are at the point of desperation, who are panting for Him the way a deer pants for water in the desert. He answers dependent prayers. Sure, we want revival, but we don't need revival. That's the difference. God will meet us at our point of need, not our point of preference. Revival is God's radical measure to get the church in a given area or at a given time back to normal before it falls into spiritual oblivion and cultural irrelevance. Revival comes when we realize that it's either revival or death, revival or continued backsliding, revival or the world around us goes to hell.? In this above quote from Michael Brown, he really speaks to the high requirement for revival namely in one word: everything! Oh brethren, we must realize that this has always been so; there are no shortcuts with God. We will never see a revival until this is realized and acted upon. In light of eternity let us have tears for our lack of desire and desperation for God. John Knox was a great man of God and this was his prayer, ?God give me Scotland or I die!? Again, John Hyde, who was a missionary, prayed, ?God give me souls or I die.? Again, Whitefield prayed, ?God give me souls or take my soul!? May we take it further, dear reader; can you pray: ?Give me revival or I die??
Where are those that have a burdened heart like Evan Roberts? He prayed for revival night and day for twelve years. At the end of these twelve years he prayed with such intensity, agony and urgency that his landlord asked him to vacate his living quarters. Is there a burning in your soul? a building desire in your heart? Let us not fool ourselves; the prayer meeting is ?dead? and so are multitudes in their trespasses and sins. We need a holy desperation to fill our prayer meetings, a holy zeal that will not relent until revival comes. The ?Lord comes suddenly? to His temple; let us not be found sleeping or great will be our shame. Mario Murillo in his article: ?Vital insights into God?s preparations for revival? states: ?now is the time to pull out all the stops. No program is sacred, no worthy project is worth enough. None of the ointment can be spared. It is revival or death!? William Seymour, the father of the modern day Pentecostal movement prayed for five to seven hours a day for over a year for revival. And what resulted? A glorious, powerful, sweeping Pentecost swept the world. Winkie Pratney told why there was no revival in the church over twenty years ago: ?We do not have men and women who are prepared to pay the same price to preach the same message and have the same power as those revivalists of the past. Without these firm believers, the community can never be changed. Our concern is conciliatory, our obedience optional, our lack theologically and culturally justified. Quite simply, it costs too much!? S.B. Shaw, who wrote on the Welsh revival, shares the results of a true heaven-sent revival: ?A revival that like a tornado will sweep away all the old dried-up sermons, and all the cold formal prayers, and all the lifeless singing, and like a whirlwind will carry everyone that comes in its path heavenward. A revival that will fill the hearts of saints with holy love, and so burden the hearts of God's ministers that the word of God will be like fire shut up in their bones. For such a revival our heart cries out to God! For such a revival we are ready to watch and toil and pray.? May we take it further dear reader, for such a revival are you willing to die?
IF NO REVIVAL
In the writings of Isaiah we see three clear consequences for the result of the nation of Israel not having repentance towards God. May I say that these three consequences will also be ours if we do not have a renewed repentance in the Church and a revolutionary revival from Heaven. If no revival then we will see these three judgments come on the earth and surely anyone that has been awakened to the hour will realize these monstrous consequences already have fallen upon us. If no revival, then hell will be enlarged. ?Therefore hell hath enlarged herself, and opened her mouth without measure.? Oh the horror of it, hell yawning and swallowing multiplied millions of souls that will be damned forever. To just see a glimpse of this reality will shake any soul to ask, ?What can be done?? George Whitefield said: ?At the day of judgement we shall all meet again.? How will you feel when you meet all of the millions of souls that could have been saved if you prayed and sought God for a revival of religion? When the Church does not have revival hell enlarges. What a frightful thought.
If no revival, then sin will abound. Men will begin to draw sin ?with a cart?, speaking of the enormous amounts of sin that abounds in a season when the Church is not being the salt of the earth. We see that evidently today where people call good evil and evil good and to such God says, ?Woe unto them.? As Richard Baxter said of sin, ?It is the murderer of the whole world.? The only hope for lost captive sinners is Christ! Yet the Church and Christians keep multitudes from Christ. Lamentable fact! When the church is not the ?light of the world?, the world falls into outer darkness. When the Church does not have revival, sin abounds on the earth. If no revival, then the Word will be despised. In a season where there is no revival in the church the world will begin to disregard the law of God, as the Scripture says, ?they have cast away the law of the Lord.? And they begin to ?despise? not only the Word of God but the ?Holy One of Israel.? This is a doublesmart; the church is ineffective and God is mocked. Martyn-Lloyd Jones wrote to this fact: ?Does it grieve you my friends, that the name of God is being taken in vain and desecrated? Does it grieve you that we are living in a godless age? The main reason we should be praying about revival is that we are anxious to see God?s name vindicated and His glory manifested.? When the Church does not have revival God?s name is despised.
Leonard Ravenhill wrote: ?this generation of Christians is responsible for this generation of sinners.? This responsibility is of eternal consequence, dear reader; being a Christian is a somber thing. Over a hundred years ago Andrew Bonar wrote: ?Revivals begin with God's own people; the Holy Spirit touches their heart anew, and gives them new fervor and compassion, and zeal, new light and life, and when He has thus come to you, He next goes forth to the valley of dry bones?Oh, what responsibility this lays on the Church of God! If you grieve Him away from yourselves, or hinder His visit, then the poor perishing world suffers sorely!? Evan Roberts wrote: ?Prayer is buried and lost, and Heaven weeps. If all prayed, the wicked would flee from our midst or to the refuge.?
LOSS OF REPUTATION
Perhaps one reason why there is no revival is because the ministers are not willing to pay the cost, namely the loss of reputation. Gilbert Tennet was used mightily of God in the second great awakening. Hear him give account of the popular preaching in his day: ?They often strengthened the hands of the wicked by promising them life. They comfort people before they convince them; sow before they plow; and are busy in raising a fabric before they lay a foundation. These foolish builders strengthen men's carnal security by their soft, selfish, cowardly discourses. They have not the courage or honesty to thrust the nail of terror into the sleeping souls!? Preaching without unction, praying without fervor, are two reasons why revival tarries in our day. We need a moratorium on reputation to see revival. May God rouse this generation to a passionate pursuit for revival and a determined ardor to see it come to pass.
---
www.Preachingtruth.com / Paul Washer video
Här är en del av en predikan av Paul Washer från
http://www.heartcrymissionary.com/

detta är del nummer fyra. För fler predikan och bibelundervisning gå till
http://www.preachingtruth.com
Detta är en helt ny sida med mycket superbt andligt matrial för de som hungrar. Många många timmars underbar bibeltrogen förkunnelse!
---
Shout of the Trumpet - Derek Melton
---